Canadian lumber imports can only help the bottom line of Canadian gold producers
April 27, 2017 01:05 PM
The tariff the Trump Administration plans to slap on Canadian lumber imports should lead to a further weakening of the Canadian dollar, a move that precious metals expert Michael Ballanger says can only help the bottom line of Canadian gold producers.
During the past 40 years, the British Columbia lumber business has always taken great glee in plucking the chin hairs out of Uncle Sam's beard by legislating protection for its markets by way of subsidies and tax credits with political parties catering and pandering to the voting workers in an industry that dominates the provincial workforce ranking second only to agriculture.
Each time one of the grey bristles was plucked from that star-spangled beard, the Big Man would flinch and growl and wave his massive arm as if to swat away the irritant but never would Uncle Sam do anything but make noise. Now, with news that the Trump Administration intends to slap a 24% tariff on Canadian lumber exports to the United States, the first cannonball in the dismantling of NAFTA has sailed across the bows of the Mexican and Canadian frigates moored in the harbor of international trade.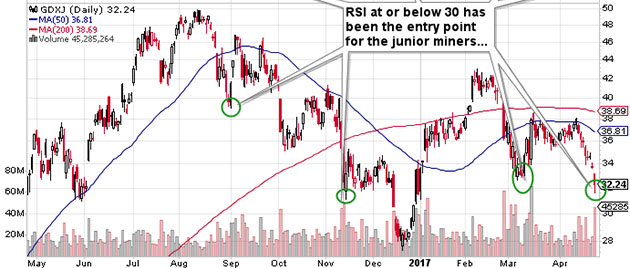 The Canadian dollar has been smoked for a 0.65% haircut Tuesday and that trend is NOT going to end any time soon because of the old adage that "there is never only one cockroach"; these U.S. politicians will have a sitting duck target in their northern neighbors because Canada has absolutely zero leverage in the negotiations. With that, the Americans are bound to graduate from the obvious lumber bogeyman to other things like pipelines and banking and livestock, because once politicians see the popularity meter rising, they will seize upon this protectionist bandwagon like flies to manure.
As this movement gains popularity and as more and more Canadian export industries are revealed as targets by the media-hungry, tweet-crazy American Commander-in-Chief, the lower the Canadian loonie will go and the happier I will be as a shareholder of gold-producing Canadian companies.

These two charts clearly illustrate how currency fluctuations have benefitted Canadian gold miners with particular emphasis upon those with Canadian mines and operations. They are selling a product sitting within CA$115 of the 2011 high while its U.S. counterpart is around US$639 from the same peak price. Everyone in the Canadian banking business loves a weak Canadian dollar because it invites all manner of foreign investors piling into Canadian assets with the prime recipient being real estate. Forget the impact it has on fruit and vegetables and orange juice, just buy a 1,500 square-foot house for CA$1,000,000 and your capital appreciation will cover the additional cost of living fivefold! Buy now and sell that starter home in six months for $1,400,000 to a Chinese family immigrating from Beijing with CA$10 million granted to them by an associate of the Communist Party with instructions to "own real estate."
However, it IS a tremendous earnings windfall for Canadian miners selling their products in USD while incurring all extraction costs in CAD. Furthermore, when one glances at the chart of the USD Index (shown below), it is painfully clear how the Trump Effect for "Make America Great Again" has now eluded the USD since the New Years Day peak and has been in a downward spiral ever since.

Currency debasement around the globe has created a "race to the bottom" in terms of purchasing power, which translates into monetary inflation of global dimension emanating from every central banker on the planet. Synonymous with this is the urgent call to suppress the precious metals while supporting stocks and bonds in the interest of "national security" in much the same manner that Germany and Japan did during WWII.
The problem with trying to fight the stock market and these innumerable interventions is that one should "never underestimate the replacement power of stocks within an inflationary spiral" or, in this case, a "reflationary spiral." As I have been raging about for at least the last 30 years, the only way I could earnestly short common stocks with absolute confidence would be if there was an implied "guarantee" that government would adhere to a sound money policy where currency debasement was punishable by way of life imprisonment. And as Kyle Bass said in Michael Lewis' "Boomerang," that will happen "when pigs fly out of your a--!"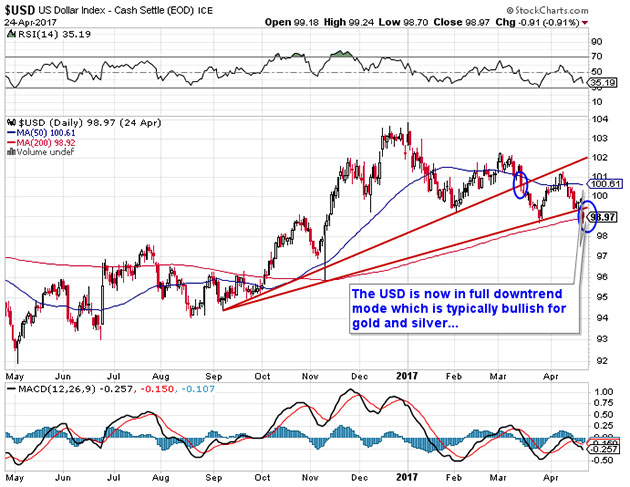 About the Author