Major banks bullish for first time in a decade: A look at metals and mining
February 8, 2017 01:34 PM
Back in 2003–2008, when China was creating infrastructure mega-plans, the last commodity supercycle occurred. Now, it's China, Europe, and the United States, together with India, Russia, and many South and Central American countries, all building their foundations for the 21st century at the same time. As you can see, we have plenty of upside.
High inflation rates and low interest rates are making high-yield investments close to impossible, and Wealth Research Group profiled two companies in 2016 that yield 8.4%, a requirement to be called a High-Yield Master. Both are up double-digits in three months, and including dividends, they have already returned close to 18.43% on average.
I spent the past week analyzing 53 companies that yield over 7.2% in dividends and have direct upside potential from commodities, and I found one company to own for the long-term.
This is part of the High-Yield Stocks asset allocation model of the 2017 Global Wealth Portfolio, and if you are approaching retirement, companies like this are extremely rare to find.
These inflationary trends are creating a set-up for gold and silver as well.
It is already a fact that no fiat currency has held its status this century versus gold, and there is absolutely no reason to expect that any will in the future.
We own physical gold and silver because governments steal our wealth using currency printing. Gold has had a 2% annual increase in production this past century, but currencies have been printed at a much faster pace.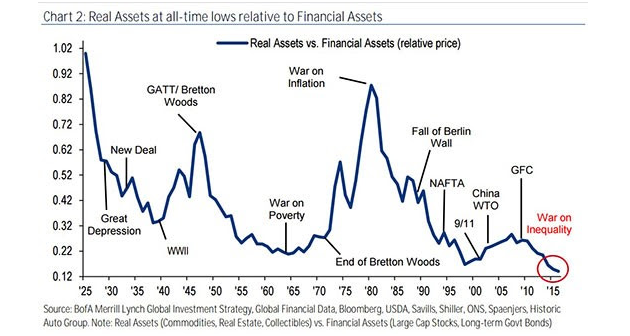 There is absolutely no question that this chart shows the 36-year downtrend in real assets has approached exhaustion, and aligning with higher mineral prices is the most sensible and contrarian move to make, while 99% of investors are still hypnotized and following the old paradigm.
Another sector, which finding a viable company in is a rare occasion, is marijuana.
I personally think that this sector could be 2017's highest gainer, but there are countless companies that are burning cash, and only a select few that will actually be profitable.
About the Author